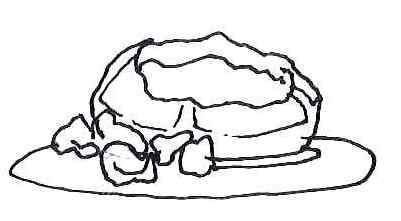 Bread Bowl Spinach and Artichoke dip

Ingredients:  creamed spinach (I get the frozen-steam-in-bag-kind), a jar of artichoke hearts, feta or goat cheese, mozzarella shreds, and a nice, round, unsliced loaf of bread.
Instructions:  1.)  cook/heat/nuke creamed spinach if it is frozen, then mix creamed spinach, artichoke hearts, and cheeses.  2.)  cut the center out of the bread so that it creates a bowl.  3.) place bread bowl on cookie sheet and surround with the torn to chip sized innards of the bowl.  4.)  fill bowl with dip mixture.  5.) bake at 400 for about a half hour, then remove the bread pieces and put the bowl back in the oven.  6.)  bake another 15 to 20 minutes, arrange in an aesthetically pleasing manner and enjoy!