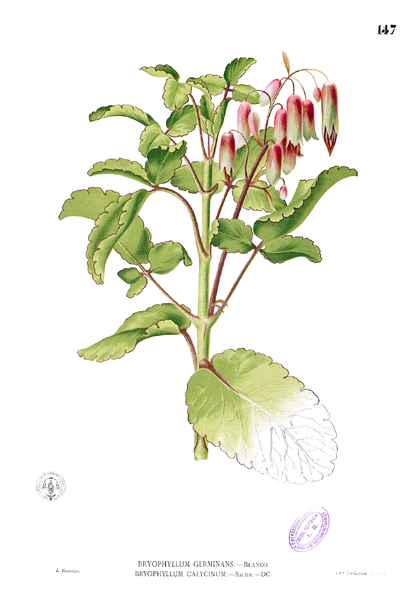 Here is where I laugh at myself and this is the story. I am dreaming of gardening lately and, of course, I had to do some research into native and hardy plants. While snipping a plant description my Evernote told me I had a similar note, namely one snipped from the Wikipedia page for Bryophyllum pinnatum.
So, way back when my mysterious alien plant could've been a Lychee tree seedling (in my mind anyway), I did some research on the leaves and found Kalanchoe pinnatum, related to the Mother of a Thousand Children, called cathedral bells by the USDA and Sweetheart plant by the University of Florida's Center for Aquatic and Invasive Plants.  Are you laughing at me with me yet?  Because, apparently, I figured out what my mystery alien plant was a while ago only I didn't know I did, or I just promptly forgot about it.  I wonder what else is tucked away in my Evernote.  All of my years of OneNote use are merged in there too.
The Wikipedia page has a few other names for my plant:
Bryophyllum pinnatum, also known as the Air Plant, Life Plant, Miracle Leaf, and Goethe Plant is a succulent plant native to Madagascar.
Now I just need to figure out what I'm going to call it.  I think I like Goethe Plant the best.