I saw on the DVR that the next recorded episode of Stephen Fry in America was going to include Florida and I thought, 'heh, I wonder what awfulness he's going to find there.'  Not long ago I was actively looking for opportunities outside of Florida, and I have never been a fan of the traditional Florida fare of sunshine, beaches, mice, and water sports (citrus, I like).  Maybe because I have since settled down in my birth state, or maybe because it is my birth state, I was a little disgruntled when Mr. Fry's primary visit was Miami, and his primary reaction was understandably scathing.  How, you might ask, can I be disgruntled when I understand his reaction?  Well, he visited Miami.  Except for The Golden Girls, there is and has never been anything tied to Miami that could entice me to visit there.  It's like having someone come visit your house and they only see the inside of your garage, dented, stained holiday decoration boxes and all.
–by the by, I am in entertainment consumer love with Stephen Fry; as in, I love to consume and am terribly entertained by all his writing, speaking and acting.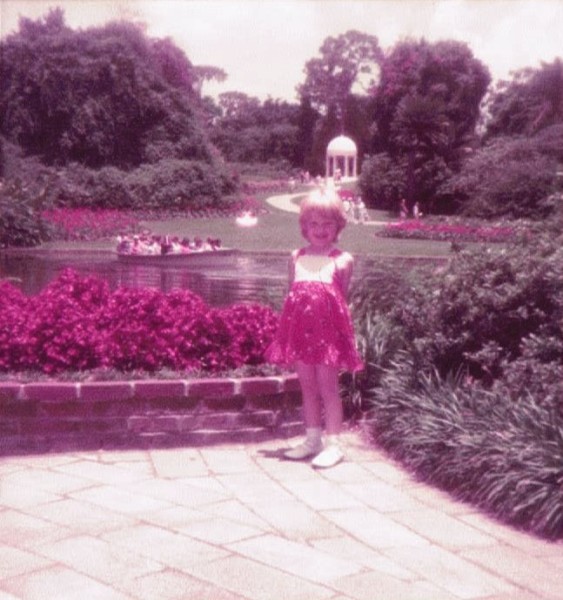 So, partially as an exercise in state love, which I am still new to, I started wracking my brains for the bits of Florida that I'd rather have been seen by Stephen Fry.  What I realized, is that the bits of Florida that I think make it great are withering away.  Fewer and fewer of the quaint and wholesome tourist attractions of a hopeful postwar (WWII) U.S. can still be found in our tropical peninsula.  They are slowly making room for the attractions of today's tourist.
Case in point:  Cypress Gardens.  I remember Cypress Gardens as a bright, hot, floral and fragrant fairy land of leisurely enjoyment.  As a typical American little girl, I was in awe of the pretty ladies who twirled their gigantic ball gowns into perfect circles of fabric as they perched on the green green lawns of the gardens.  At the time of my visit, Cypress Gardens was still doing well, but was most definitely the day trip that grandparents took their grandchildren on.  It was of their generation.   And, while they tried to pass it on to a new generation, most grandchildren, me included, didn't spare it a second thought until it was too late.  Now that I've come around to my grandmother's way of thinking, Cypress gardens has been swallowed up by LegoLand.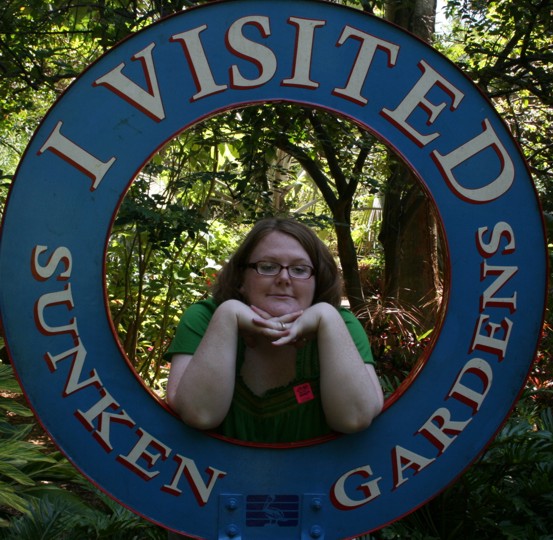 At least LegoLand has spared and thus protected some of the the Cypress Gardens skeleton, so I've been told.  I don't currently have any small children who want to go to LegoLand, so I have not verified.
Similarly, Sunken Gardens was saved at the last minute by Carrabas.  I'm not sure of the exact business arrangement, but the decagenarian garden was well on its way to ruin as the museum and tiny shopping mall attached to it failed.  I am happy to say I am a more regular visitor to Sunken Gardens.  I think visiting gardens seem to be the best way to enjoy a state named after it's flora.  I am going to make visiting more gardens my local traveling mission, in addition to finally seeing the Coral Castle and I just found a, slightly outdated, list to help me, too.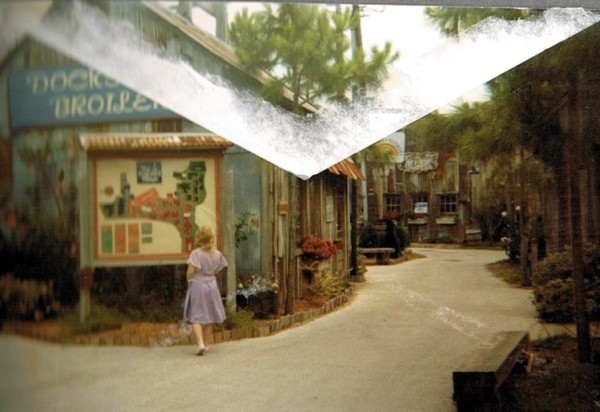 There are a few attractions that weren't lucky enough to be saved.  I've had this picture of me looking at a map under the Dockside Broiler sign forever.  I had thought it was from a trip to St. Augustine, but this was really the Boat Yard Village.  It was a quaint restaurant and shopping village similar to places like John's pass and the sponge docks at Tarpon Springs.  The Boat Yard Village disappeared with little fan fair, at least for the people who didn't live nearby.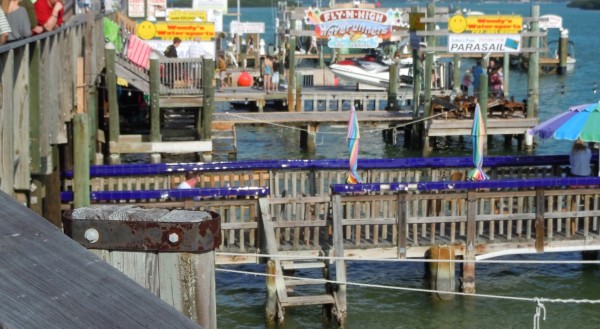 John's Pass is actually holding on.  Perhaps because of the boardwalk or the boat tours and day cruises that are offered up and down it.  While you wait for your aquatic adventure departure you can peruse the tiny, hokey, local shops, or buy fudge, lots and lots of fudge.  These water side attractions are the deepest truths of Florida.  They've grown from the first refreshment and activity stands on the multitudinous beaches of this peninsula; they've boomed, declined, been remade, boomed and declined again.  Eventually, like the St. Pete pier, they will be completely demolished and replaced.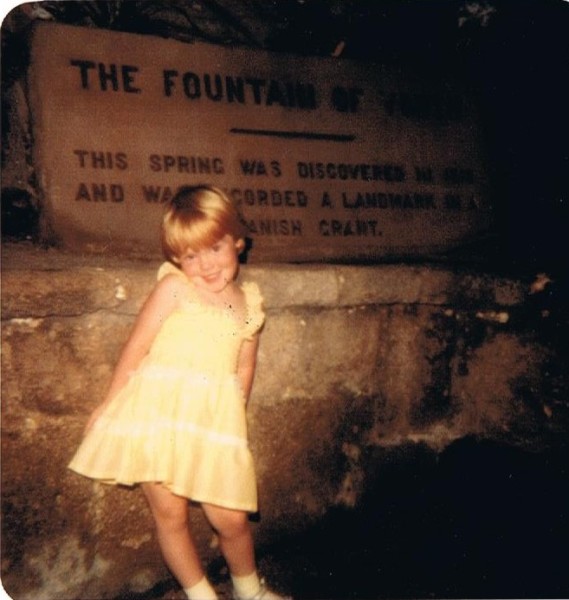 No "for love of Florida" post would be complete without an extensive treatment of St. Augustine, the oldest city in the U.S., so they say.  In highschool, I was trying desperately to figure out a way to go to Flagler College, located in an extravagant hotel on the edge of the 'old town,' but economy and practicality won out.  Given the dorm regulations at the time, I think I like it more as a visitor than I would've liked it as a resident.  I find the conflict between St. Augustine's deteriorating, yet beautiful, old architecture and the sprawling, utilitarian structures that have oozed out from every nearby state road and highway absolutely fascinating.  St. Augustine is a Florida city, which basically means low to the ground and rambling.  Pieces of the old city, fortifications, cemeteries, and the fountain of youth are hugged by multi-generation strip malls and residences.  I also find it odd and quaint that old St. Augustine and it's boutique tourist shops and restaurants have seasons similar to North Eastern sea side towns.  This is contrary to new St. Augustine's, and all of Florida's, 'any day, any time, we're always open mentality.'
Normally visitors looking for the heart of a state would be wise to avoid the typical theme park attractions.  That's not necessarily the case in Florida.  Florida makes it's living off of tourists and snow birds.  People who live here do so to serve the tourist industry or support the population that serves the tourist industry.  From the earliest housing booms, Florida has marketed itself as an all season vacation destination.  So, it can be beneficial to look at Florida through the lens of  Busch Gardens, the Kennedy Space Center, or Weeki Wachee.  Weeki Wachee is probably the most Florida of all Florida them parks.  That's why I wrote a comic about it.
So, where would I rather have had Stephen Fry visit in Florida? The places that make Florida wonderful are small and overlooked. They are the pastel, mid-century strip malls, on the main streets of each beach town, that house candy parlors and wax museums. They are the strawberry and blueberry fields where you can
pick your own fruit,
or the parks, boardwalks, and preserves hiding in a dozen places in every city.  The beauty of Florida isn't tanned and overly primped tourist bodies on white beaches, it's the heady, perfumed air of a garden fighting valiantly against the exhaust of a city, and a thousand varieties of water birds hunting in parking lots, backyards, or on the shores of countless lakes and rivers.