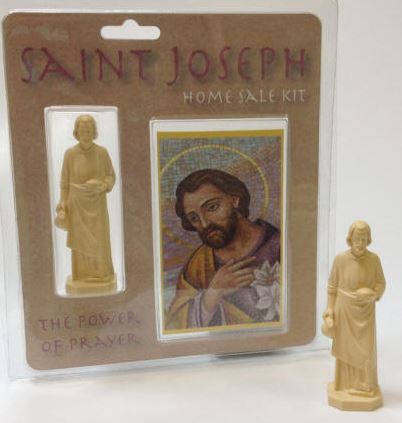 I found a small statue of St. Joseph in my front garden.  Other than a disem-housed toy chimney, it is the only garden discovery I have made that is not building materials.  Not immediately recognizing it, and being raised with more of the mezuzah tradition than that of the catholic saints, I had a strong inclination to put it back.  I decided to clean it up and research first.
What I found is that St. Joseph, in addition to being a patron saint for families, parents and working people, is also the patron saint for home buyers and sellers.  Burying a small figurine of St. Joseph upside down and facing the house will help your house to sell.  You should remember where you put him, so you can retrieve him once the selling is over and give him a good place in your new house (oops to the previous owners).  Since we are so happy to have found our house, we've given him a good place in ours.
The Catholic Supply Company has a few variations on the St. Joseph home selling kit, the one pictured is the figurine found in our garden.