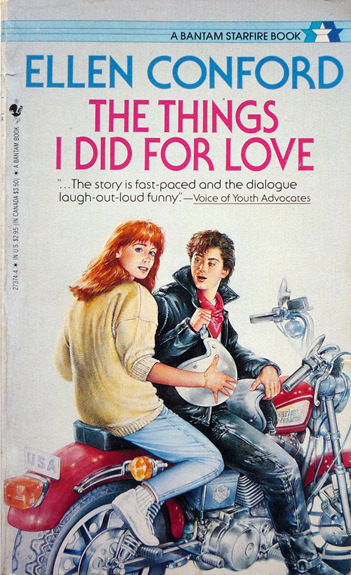 Years ago, I undertook the ransacking of my memory to create an exhaustive list of books I've read.  You might think that was crazy, one of my best friends did.  And I probably did fail to remember some of the stories I had read during my near thirty years of life (at the time).  But I used some tricks and did some searching and came up with something that was pretty complete.
Eventually, all I was left with were those books for which I could remember the cover or a few plot points, but could never find the right thing.  The Things I Did For Love is just such a book – THE final book plot and cover details that haunted my memory and would not allow me to simply write off that I could not write it down in my Great Read It list.
Thanks to CLIQUEY PIZZA 2: more 80's teen book series & pop culture, I now know what the title of this dang book is, and the author, and I can put it on my Read It list for good.  In fact, once I read the Cliquey Pizza coverage on The Things I Did For Love, I automatically went out and re-purchased a copy that I intend to re-read just because it has been a massive thorn in my list for so long!  …and because I'm not quite done reliving the cheesy teen romances that I used to love.
Thank you Cliquey Pizza for saving my list!  Thank you from the bottom of my heart!