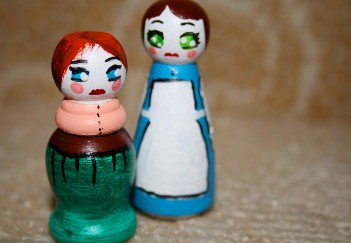 It was the Bean's 7th blogiversary yesterday!  Did I even have it on my calendar?  So, lets take a trip back in time with some posts from long ago. In the beginning I was talking about Crafting Out Loud, a craft fair that I joined for three or four events:
13 December 2006 11:59 EST | Posted by LeEMS

Too little talked about Crafting Out Loud
Although the Bay Area has had Mainsail to showcase local artists, the new and alternative craft movement that has been a-washing the country has not yet saturated this part of Florida. Enter Crafting Out Loud, happening in Tampa once to twice monthly. Crafting Out Loud fills a gap that artisans, crafters, and DIYers all appreciate. Still aspiring to the renown of shows like the Bizarre Bazaar, Renegade Craft fair, and various Alternative Craft Fairs, COL has not yet proved to the non-crafting community that its home-made goods fill a hole created by mainstream consumerism.

Even with a write up in the Best of the Bay, courtesy of Creative Loafing Magazine previously known as The Weekly Planet, the main customers at any COL event seem to be the crafters themselves. Surely its worth the sometimes overcrowded (strangely by people not buying) and always small event locations to happen upon the amazing goodies that local artisans have come up with. I encourage everyone to elbow through the loafers and do some buying already!
Crafting Out Loud has since evolved from a crafting fair to an educational venue.  By 2007 I was oogling couch design and home furnishings.  In 2008 I was talking comics.  In 2009:
Wednesday, 23 December 2009

Blast from the Past
More past than I am actually.

"Doesn't
Kiss you
Like she useter?
Perhaps she's seen
A smoother rooster!!
Burma-Shave"

More slogans here.  Why can't advertising be this comfortably corny today?
In 2010 I was at the tail end of a massive project to move theleemsmachine and the bean to a new web platform and begin publishing comics online.  And the rest is saved right here on the Bean.  Happy Friday the 13th everybody!