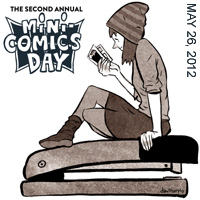 Participate in the 2nd Annual Mini-Comics Day: May 26th, 2012 | Mini-Comics Day.
Do you know me well enough to know that I am already way too excited about this even though I've only known about it for 10 minutes?  Of course I'm going to do it.  You should do it too.
Now I gotta figure out what I'm drawing.  And, should I print up multiples; do you want one? …without knowing what it'll be yet?