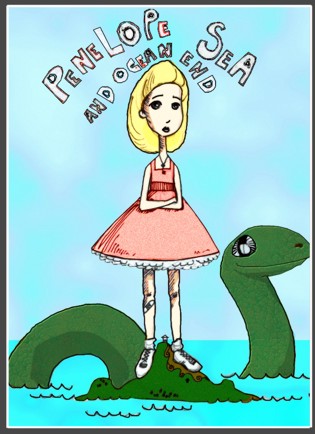 Announcement:  Penelope Sea and Ocean End, that's a story I wrote, will be posting as weekly chapters here on the Bean every Tuesday.  That's ten weeks of adventure, y'all!
Start reading Chapter One now!
Back Cover:  Penelope Sea is a mostly obedient, stubborn and quite child for whom life has been upended by her parents' move.  She is content to be thoroughly unhappy with the situation and, like many other children, dreams of a secret and mysterious spot in her new house to take her away.  Her quest to find it lands her in a place far from home, filled with creatures and concepts long since lost, where she must learn that we often have the means to solve our own problems.
Stranded in a strange place, Penelope accepts the kindness of strangers and, along the way, she encounters mythical creatures, extinct species, a stodgy librarian, and plays checkers with a kappa to save herself from being eaten.  At last she discovers that her ticket home is none other than the house key on a chain around her own neck, but the kindly strangers of Ocean End don't want her to leave.