I never knew how much I needed to have physical volumes of my comics until I made a print order.  They are so much more real now…I can put them on my shelves and begin filling a library full of me!  I realized after Levi Levi Chapter One and the Monster Girl's School Zine came in the mail that I have many more finished chapters and comics living ethereal lives in digital form.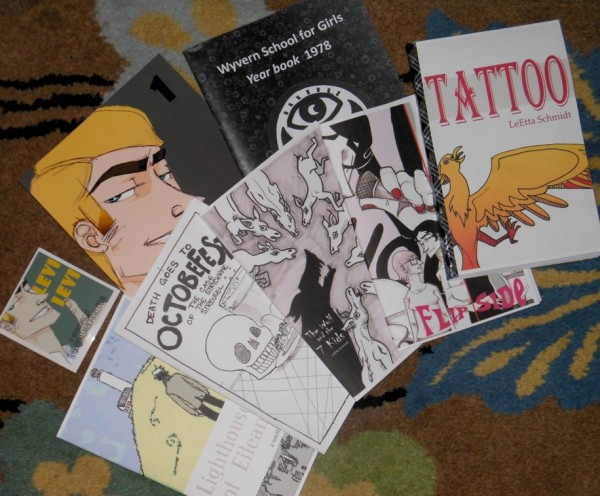 I printed up the short comics of the lot myself:  Lighthousemen of Eilean Mor, Death Goes to Octoberfest, Grimm's The Wolf and 7 Kids, and Flip Side.  These are really just mock ups, but don't they look pretty with Levi Levi and the Monster Girls?  Ooh, and my Levi Levi stickers came yesterday.
Tattoo is my choose your own adventure story, also a mock up.  I sew bound it with some glue support but then cheated and used duct tape to cover the spine.
Perhaps I will take my short comic mock ups to the copy store.  I am starting work on making the first chapters of No Evil and Unlikely Bedfellows print ready as well.  Soon I will have an entire table's worth of comics for sale.