It all started with a print called "Spirited Horses"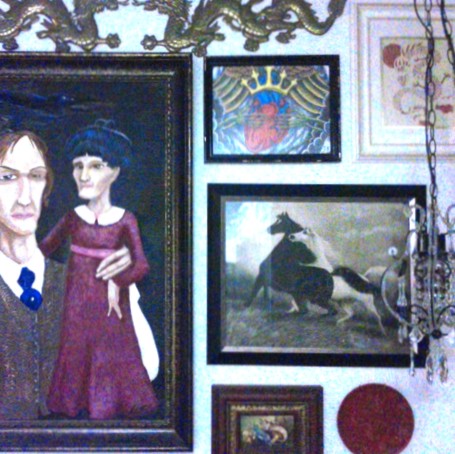 on my dining room wall.  I had inherited it from my grandmother.  I remember sleeplessly looking up at it on the wall of her den during 'nap time.'  A notation on the bottom says it was copyright in 1900 by Jos. Hoover & Sons.  The signature reads 'LeRoy' with a circular flourish around it.
Then I saw the same picture in a magazine spread of an interior designer's home and I was so captured by coincidence that I found out all I could on the artist and wrote a short post on my blog:  Vintage Prints and Small Worlds.
At that point in time, I found that the print was attributed to a Henri LeRoy (1851-), still life painter in France.  I have since found that the true artistry of Spirited Horses is much more convoluted.
A dealer on an auction site had a 1904 edition of Spirited Horses that lists it as a no. 2 in a series of images.  While researching his find, he found from a discussion list (no longer active) that Spirited Horses no. 2 was part of 4 companion images.  No. 4 in this series apparently shows the horses dead.  These images were attributed to Anita LeRoy, signing simply as LeRoy.  On yet another auction site, a dealer with a 1908 edition of Spirited Horses #2, spots it in the movie A Christmas Story in the scene where the leg lamp breaks.
I hate to say it, but all my researching didn't turn up any definitive answer on whether Henri or Anita was the author Spirited Horses, or the many other prints that came out of Jos. Hoover & Sons printing with signatures like: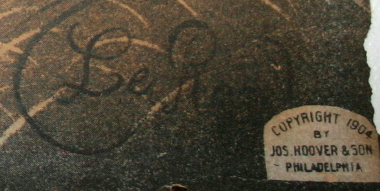 On the contrary, I wonder if there may be another answer and another artist for the prints out of Jos. Hoover & Sons, separate from Henri LeRoy (1851-) and Anita Pemberton (nee LeRoy).  The only person who may really know the answer is the printmaker himself:  Joseph Hoover. 
The Philadelphia Print Shop Ltd
., and the related
Antique Prints Blog
describe Joseph Hoover as the maker of elaborate wooden frames who later began producing prints under other publishers of the day including James F. Queen.   The
Library Company of Philadelphia
adds that Joseph Hoover, of Swiss-German heritage, was born in Baltimore in 1830 and became one of the most prolific chromolithographers of late 19th century parlor prints after he opened his own shop.  By 1893 his business was booming and he was working closely with his son, trained lithographer Henry Leander Hoover (b. Sept. 1866).
Continue reading Chromolithography and the mystery of Henri and Anita LeRoy