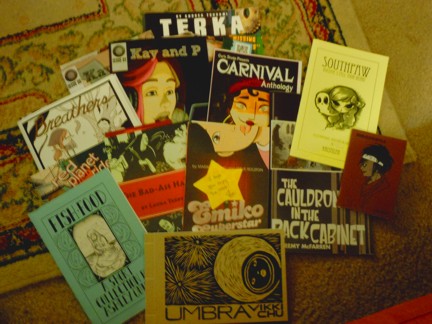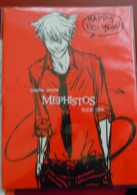 The first trip was such a success I had to go buy more and then I had to take a really long time to write about all of it.  And here is what I got:
Kay and P 00 & 01– Starts the story of Kay – music student and P, her skeleton ?ghost? friend.  The story is painted really completely with great detail and a nice way of coloring the background to be a little lighter – accentuating the forward action.
Terka – fabulously conceived world of monsters.  I like the city gate and museum settings.  The line work is clean, stark and wonderful black and white.
Carnival – is an anthology of short comics about going or being in the carnival.  It's amazing how differently a group of artists can treat a theme.  The variety of story alone is fascinating and all of them well done little scenes.
Southpaw – I love the drawings and the style.  This is a fabulous little zine.  Mostly art zine/sketchbook style with a few comic sequences.
Breathers – What can I say?  The whole idea of a semi apocalyptic future where everyone has to have breathing apparatuses when they are outside and yet everything is still normal is great.  I wanna keep reading.  I'll have to get the next book.
Red Planet Ride #2 – Just as fabulous and beautiful as Red Planet Ride #1.  I had to get it.  So, this wasn't really so untried a purchase.
The Bad-Ass Habit – Nuns, all girls boarding schools, arrows and bear traps.  What more could a girl want?  And that's not even spoiling this delightful and stark fairy tale.
Emiko superstar – The dull to fabulous summer story that everyone wishes they had with a healthy bit of apprehension.  At least me – totally a story that draws you in and makes you feel part of it.
The Cauldron in the Back Cabinet – Kinetic drawing and excellently rendered gloom and dark autumn days.  I love the mystery and the reveal.
Charles & Renfield – Beautiful little mini comic by Kiki Jones.  I like the story book style.
Fish Food – little vignettes by Ashley Quigg are like beginningless and endless dream scenes.  There is a new twist on every page, and yet they all flow together.
Umbra – Wordless and wonderful.  The pictures almost look as though they could be woodblock.  Dreamy story line.
Mephistos – The art work is sketchy and spare.  The page compositions are genius in a 'hey this is so pleasing to follow/read/look-at I didn't even notice why' kind of way.  I really wished the story had gotten further before the issue ended.  I guess that's how I'm going to get the next one.