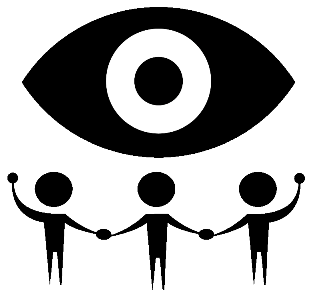 I just finished watching The Last Enemy.  It took me back to the days when I would troll the literature section for stories about dystopian futures.  Most of those stories were commenting on issues happening in the world already and The Last Enemy is no exception.  It is a fabulous mini-series even if you don't think Benedict Cumberbatch is as hot as the internet thinks he is.
The Last Enemy turns its microscope on identity tags and surveillance systems.  I think I may have only imagined that it was set in the future, but in reality, many of the privacy infringements brought up in the series have roots today.  Even an amateur sleuth with a Google search can turn up a surprising amount of information on a person.  Governments with access to phone location, call frequency, internet activity records would have no problem painting a complete picture of any individual's movements, associations, and beliefs.
There are smart and aware people out there fighting on behalf of us all to make sure balance is maintained between our rights to privacy and the ability of our leaders and protectors to guarantee that right, among others, and our safety.  EFF has great news on Increasing Anti-Surveillance Momentum and the Necessary and Proportionate Principles.  They are part of a group that has created  International Principles on the Application of Human Rights to Communications Surveillance, a document that can help our leaders evaluate whether or not a surveillance law is infringing on our rights.  Of course, we shouldn't ignorantly stumble on expecting someone else to take care of us, should we?  So, there are also plenty of resources at the two links above to teach you how you can take action.